Envie de vous balader en toute facilité ?
Nos trottinettes électriques vous emmènent partout !
Visit not only the Etretat town center mais montez at the top of the cliffs avec elles !
Nous avons spécialement sélectionné l'Etwow GT prémium pour sa puissance permettant d'escalader les 85 m de falaise et son triple système de freinage pour en redescendre en toute sécurité.
Cela reste une trottinette, il donc autorisé et même conseillé de patiner un peu pour l'aider ☺
Attention, l'âge minimum requis pour utiliser une trottinette électrique est de 12 ans.
Son autonomie allant jusqu'à 35 km vous permet également de découvrir les environs.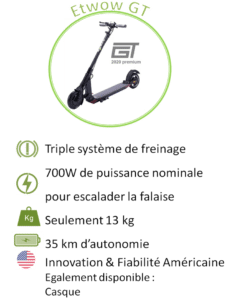 Mais quels environs découvrir quand on ne connait pas Etretat ?
C'est pour cela que Panda Motion met à votre disposition une carte interactive avec les points d'intérêt de la ville
Envie d'en savoir plus sur l'histoire de ces lieux et découvrir d'autres secrets d'Etretat ? Laissez-vous tenter par nos visites guidées et chasses aux trésors ..
La trottinette vous à donné envie d'explorer la côte d'Albâtre ?Nos vélos électriques livrés à domicile sont là pour vous !.
Tentés par l'expérience ? Plusieurs moyens sont disponibles pour louer nos trottinettes électriques.
Si vous habitez à moins de 8km à vol d'oiseau d'Etretat, nous pouvons vous les livrer chez vous pour 25 €/jour, réservationsur le site ici
Si vous venez à Etretat pour la journée vous pouvez trouver nos trottinettes chez nos hébergeurs partenaires pour moins de 8€/heure,